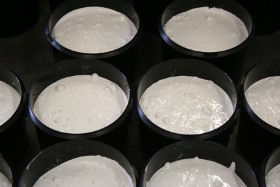 The Image inks Company is a complete roller manufacturer offering complete journal repair, recovery of existing cores or new rollers complete with bearings.
With a capital investment in metal lathes, tool post grinders, AutoCAD computer systems, CNC machining equipment and an electronically controlled auto clave cooking system, Image Inks is a roller manufacturer capable of producing rollers to OEM specifications. Whether you need one roller or one hundred we will supply you with the same outstanding quality at a competitive price. We offer a roller caddy system for storage and shipping. Ask your sales representative about our roller in roller out program.
We are a specialized roller manufacturer. From carefully selected raw materials to state-of –the-art AutoCAD computers and CNC machining equipment, we design every step of our manufacturing process to meet your needs. We can deliver your order on time and within specification.​
We offer rubber compounds for roller recovery and manufacturing in the following colors and materials:
80 Duro Blue ES (Ideal for mandrel cones and conveyor roller systems)
60 Duro Green EPDM (Dry offset printing applications)
60 Duro White EPDM (Dry offset printing applications)
65 Duro HSP Purple (Exclusive product - Speeds 550 ppm and Higher)
Click here to download the Machining Brochure.